It has been found that disciplinary learning for lower and senior secondary stages of school education the daily episodic micro-learning is most effective. The experts with us have experienced with this system of curriculum organization and classroom transaction in some school, including day-boarding and residential schools. Our experience informs that it takes about 30 days or four weeks to provide orientation training followed by on-job training for teachers to internalize the new approach to day-wise curriculum planning and daily learning episode designing for classroom transaction. Once the system gets stabilized in the classroom, the teachers feel empowered and confident in systematic curriculum transaction effectively.
Various advantages in adopting the micro-learning pedagogy for better learning outcomes are as follows.
(1) Developing better insights in the subject matter or content of the curriculum.
(2) Elimination of check-list based monitoring of routine lesson plans and supervision or monitoring of teachers.
(3) Creating of calendar for formative evaluation and corrective feedback and progress reporting leading to a strong linkage between teaching, learning and evaluation.
(4) Teachers getting professionalized to improve the quality of classroom processes and support learning of students.
(5) The revision and reinforcement of learning become efficient.
There are some essential teacher-led tasks in which teachers are required proficiency and skillfulness through expert training in the school setting and context which are as follows.
(1) Identifying and stating around 150 daily learning outcomes in specific measurable terms.
(2) Designing learning sheets for each class session to be done by students under the guidance of the teachers.
(3) Transaction of daily learning episode through experiential learning supported dual codes description.
(4) Setting test items which are specific and measurable for reliable and valid evaluation.
(5) Identifying hard spots learning and higher thinking tasks for special learning episodes for remedial teaching leaving no learning gaps as children progress through the prescribed curriculum.
The expert and the lead-person with us is recognized curriculum organizer, pedagogue and trainer whose work has been recognized internationally both in general education and STEM education.
The profile and credential of Dr. Lalit Kishore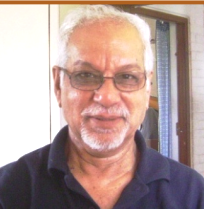 Dr. Kishore had his advance education on fellowships from International Centre for School Technology in United Kingdom; International Institute of Educational Planning in France and Queen's University in Canada.  He taught physics for 15 years at Mayo College, Ajmer; Motilal Nehru School of Sports, Rai; and Kendriya Vidyalaya Sangthan. He had been active in the area of science education, value education, teacher education and action research.
He has also worked at higher positions with organizations like Kendriya Vidyalaya Sangthan, Lok Jumbish, Krishnamurti Foundation, UNICEF, UNESCO, Disha-India, and Jain Vishav Bharati.  NCERT's Central Institute of Educational Technology has made 25 video films on his work on low-cost and no-cost science experiments for science popularization leading to the National Award by the Department of Science and Technology (DST).
For his contribution in education, he has been honoured with the National level (Eleven times) and Commonwealth Awards (Fourteen times). He recently received 'Findel- CASTME Educational Award' for the year 2018 for his work in area of 'language of mathematics'.
He has published umpteen papers and articles as well as authored a 20 odd books on education. Dr. Kishore has presented his papers at the international conferences in South Africa, United Kingdom, Malaysia and India. He has co-guided research studies and his work has been included in the courseware of Harvard University (School of Education) and Calgary University (School of Social Work). His work on gender issues in education, feminist pedagogy, continuous progress education and disability education is cited in international journals.
Currently, Dr. Kishore along with digitising his research work at Disha is also a keen blogger and writes for blogs such as Slideshare, Merinews, Scratchmysoul and Speakingtree. He has several thousand blog entries to credits and his work is followed by profound readers and researchers across the world. He has created several hundred short videos mainly on visual symbols and codes suitable for inclusive education and multiple intelligences theory of learning. He is also a keen action-researcher and a promoter of visual research in the era of digital media.